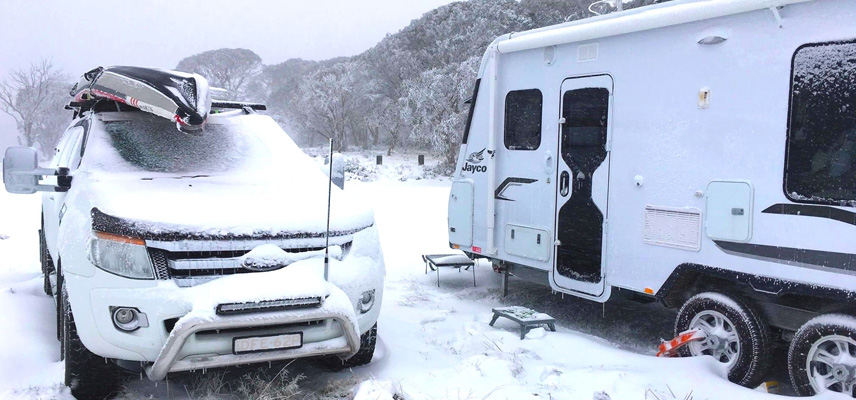 Choosing the right air heater for your van or RV is important. With an investment of well over $1000 you want to get it right and there are a few things you definitely need to consider. These include brand, heater size and installation considerations, like fuel source, heater location and whether to install it yourself or get it installed.
Choosing Heater Size
Having a heater that is too big is just as much of an issue as having one that is too small. With an oversized diesel heater you most likely will never turn it up high. It will spend most of its time on idle. This causes carbon build up and shortens service intervals. An undersized heater will struggle to keep you warm and will be operated on high most of the time. This is fine operationally, but it's the most noisy setting.
At Dieselheat, our experience has shown that, generally speaking, a caravan that is less than 21 feet will be fine with a 2kW heater, and longer vans up to 24 feet are well served by a 2.2kW heater. For really big vans, 5th wheelers and buses, we suggest using the 4kW heater. Generally, flat floor campers, pop tops and anything with lots of canvas gets a 2.2kW because canvas loses heat more quickly.
In terms of space required for installation, a 2kW and 2.2kW heater are almost the same size and use 60mm ducting, whereas the 4kW heater is larger and uses 90mm ducting. Please see our selection of heaters for the exact size.
This is of course a guide. If you have an expanda or a pop top with lots of canvas you may need a bigger heater, as canvas loses heat easily. Environmental conditions may also have an impact on your final decision. Our sizing advice is based on the assumption that you are camping in and around typical Australian areas with temperatures mostly above freezing. If you will be spending extended periods in cold alpine areas or in desert winters where it can get well below zero, you may want to consider installing a larger heater.
Heater Brand
There are basically three tiers in the diesel heater market. The top of the line brands are Eberspacher and Webasto. They are European-made and are the best quality available. A good analogy is to call them the 'Mercedes Benz' of heater. We sell the new super quiet Eberspacher D2L with complete, ready to install kit.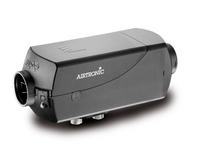 In the middle tier, are our Chinese-made Belief air heaters. These heaters are the best heaters made in China. They are a quality product and backed by our two year warranty. We have sold thousands of these heaters for over 8 years with generally excellent reliability and many happy customers. Complete installation kits for these heaters are around $1000 less than a European equivalent.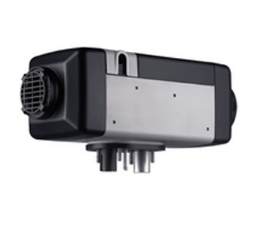 The bottom level is composed of heaters from brandless factories in China. These factories sell heaters directly online with no service, parts or backup. Their heaters are generally made of inferior parts and are generally unreliable. Additionally, they are often marketed falsely above their specifications; for example, some 5kW heaters are listed as 8kW. We do not sell these heaters due to reliability problems. Read more about these cheap heaters and why you should avoid them here.
We also note that no heater is really much good unless it has service behind it. Even the best heater can be stopped by mud wasps blocking the exhaust, poor fuel, excessive dust etc. This is why on top of selecting a brand, who you buy from is important. At Dieselheat we specialise in heaters and we back what we sell with service, parts and people who know about them.
Fuel Tanks
For camper trailers and caravans that don't have a diesel fuel source, you will need an ancillary tank. Our tank options include wafer tanks, which can either fit behind your gas bottles on a bracket or on a front box, or the easy fit tank, which is designed to go in front or tunnel boots and is easily disconnected and taken out for filling. We also have other tank options, including 10L and 20L jerry cans. Check the fuel tanks on our website for the full range, or read this specific article on diesel heater fuel tank selection. The choice of fuel tank can be very specific, depending on your layout and available space.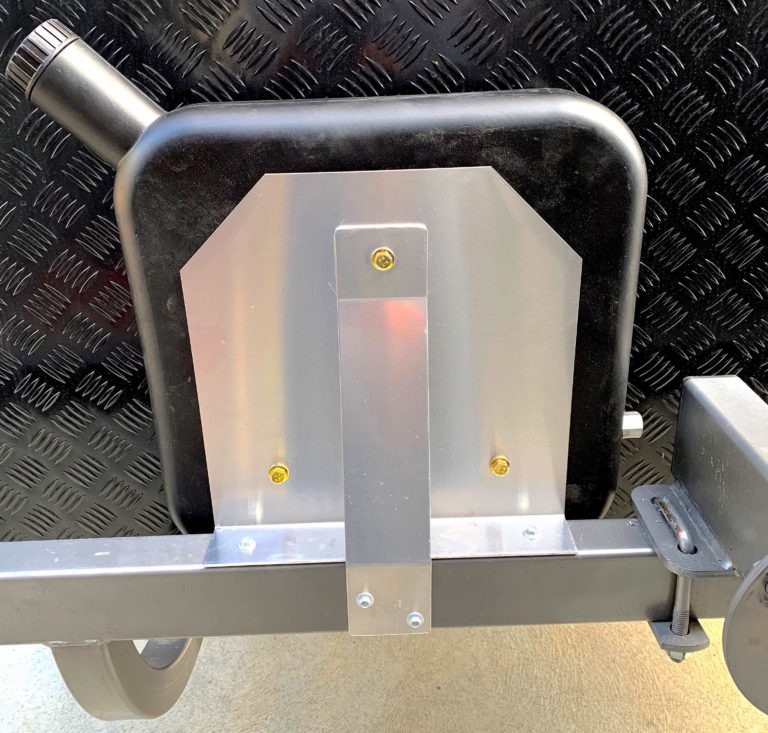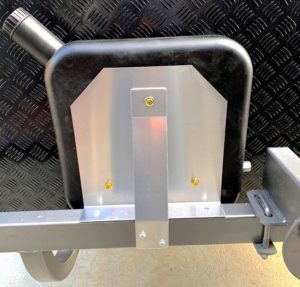 For diesel fuelled motorhomes and buses it is ideal is to take fuel out of the main tank. On Fiats and big buses, accessing the top of the fuel tank is quite easy as they have a removable cover. Other motor home brands often don't have removable fuel tank covers, so accessing the top of the tank is more difficult. In these cases the only way to install a fuel straw may be to have a mechanic lower the tank out and install the fuel pickup. We do not recommend tapping into existing vehicle fuel lines. Modern vehicles often have pressurised fuel lines that won't work with the heater. Cutting into them may void your warranty or pose a safety risk.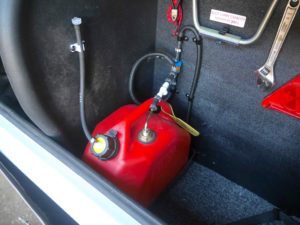 Installation Location
Generally speaking, the heater needs to be installed under a bed or in a cupboard where it is out of the way, but has a clear space underneath it (no water tanks, chassis rails etc.) as the mounting plate will need to extend through the floor. Heaters don't need return air ducting, so space on the inlet side is not as important as the outlet side, where you will need to install at least a bit of ducting. If the heater is in a storage area, we suggest using a heater cover to protect it from damage.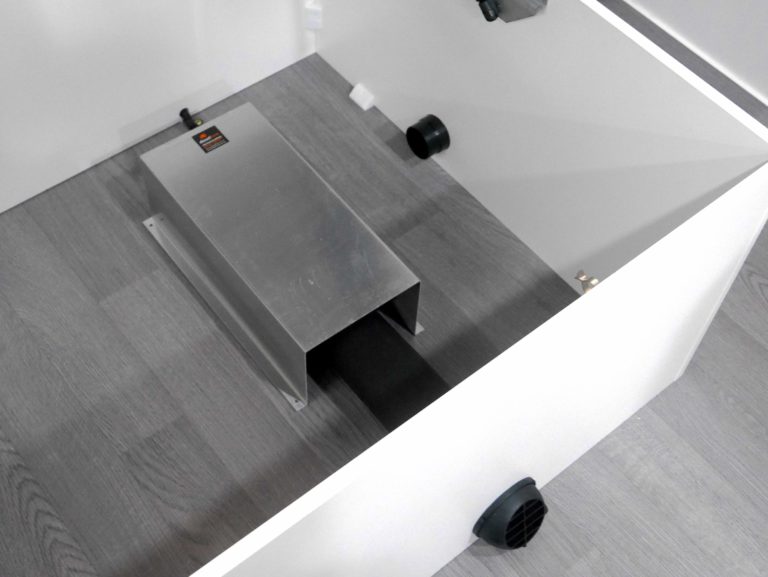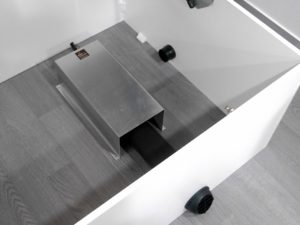 Another thing to consider when installing is the need to have the outlet in a place where it can blow hot air down the length of the interior. This is to minimise ducting and increase heater efficiency. We always suggest putting the controller where you can reach it from your bed, so you can turn the heater on in the morning when it's cold. For Belief heaters the fuel pump should be installed away from the bed under the kitchen or bathroom to minimise noise. Our Belief kits include a fuel pump silent mount kit, but the pump, located under the chassis, can still make a slight clicking sound during operation. Eberspacher heaters have silent fuel pumps All of our heaters ship with a comprehensive set of installation instructions that include advice on all important considerations. If you need additional help, just get in touch. We are always happy to help.
Further Reading: Diesel Heater Installation Instructions