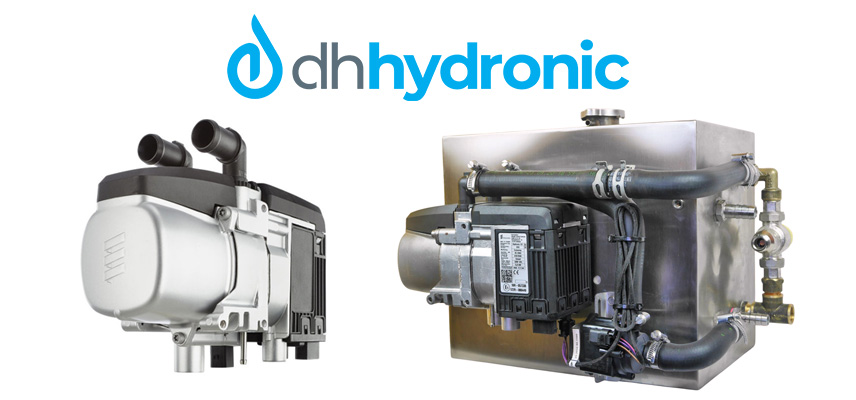 The unique DH Hydronic Series consisting of the DH9, DH15 and DH30 diesel hot water systems provides fast hot water and optional air heating in the coldest of conditions in a super robust form. Designed and assembled in Tasmania by Dieselheat, say goodbye to the hassles, risk (in boats) and cost of LPG and enjoy the benefits of hot water and air heating from one compact setup when free camping, sailing or off the grid.
The DH Hydronic series works by heating a tank of coolant using a diesel furnace and then using this to heat water via heat exchangers built into the tank. This coolant can then be piped to fan heads to allow optional air heating. The DH Hydronic series are a hybrid storage/instant on demand system, once pre-heated will provide instant hot water.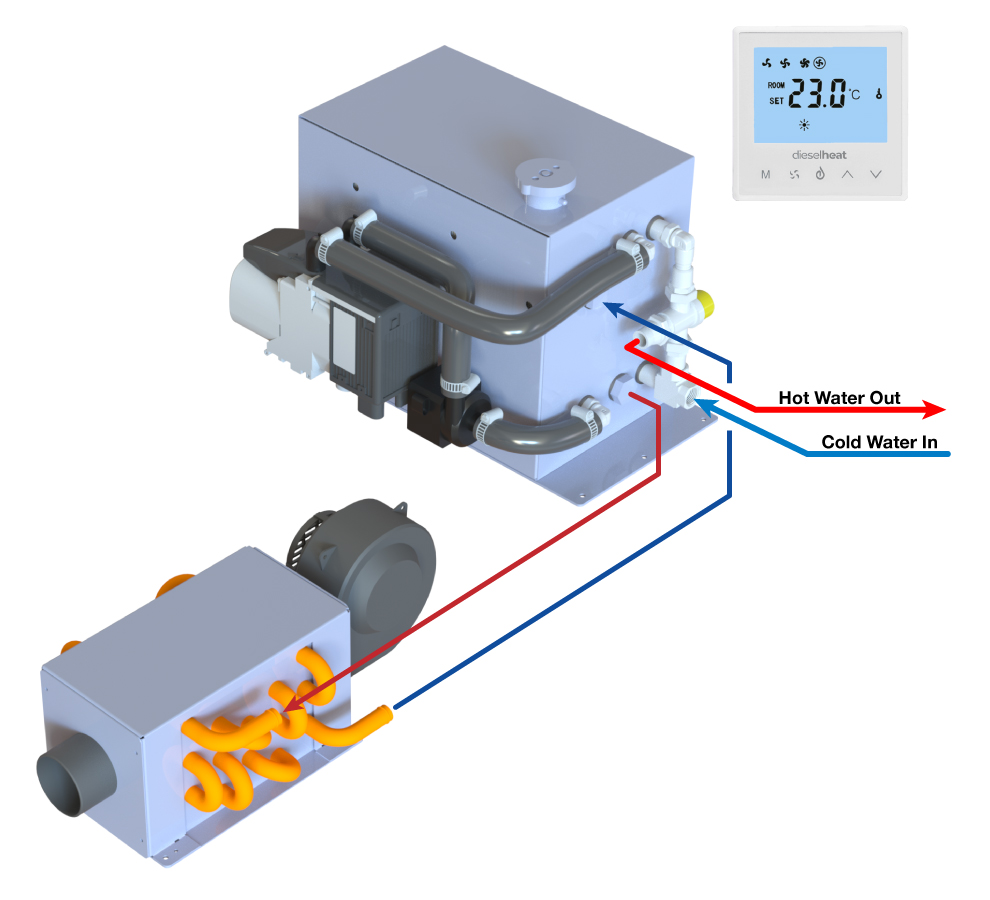 The DH Hydronic Series have the following features:
All 316 stainless steel, suitable for RVs and boats
Premium German made D5E furnaces are quiet and reliable.
Insulated tanks (DH15 and DH30) retains heat for efficient operation
Fast heat up time
Short term high flow rates to fill a sink or bucket
Continuous flow rate of approx. 2.5L/min allows long, hot, water-wise showers
Flexible installation arrangements allow installs in tight spaces for smaller Rvs and larger higher capacity systems for caravans or busses.
Integrated air heating (optional)
Includes Watermark approved tempering valve and fittings to ensure hot water is always delivered at safe temperatures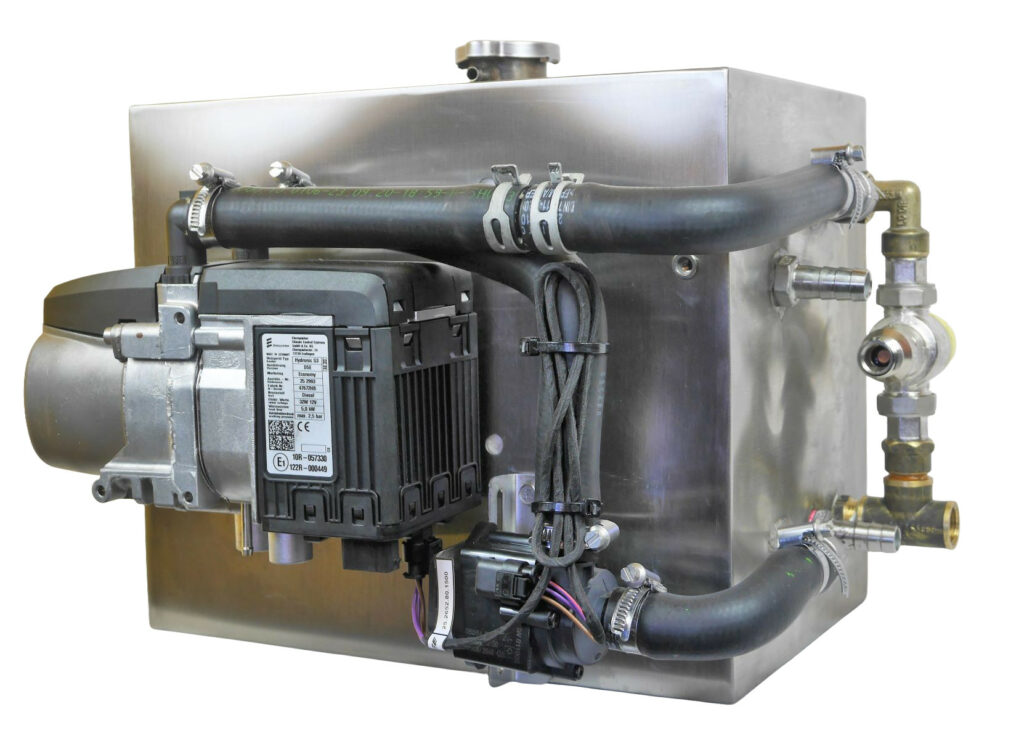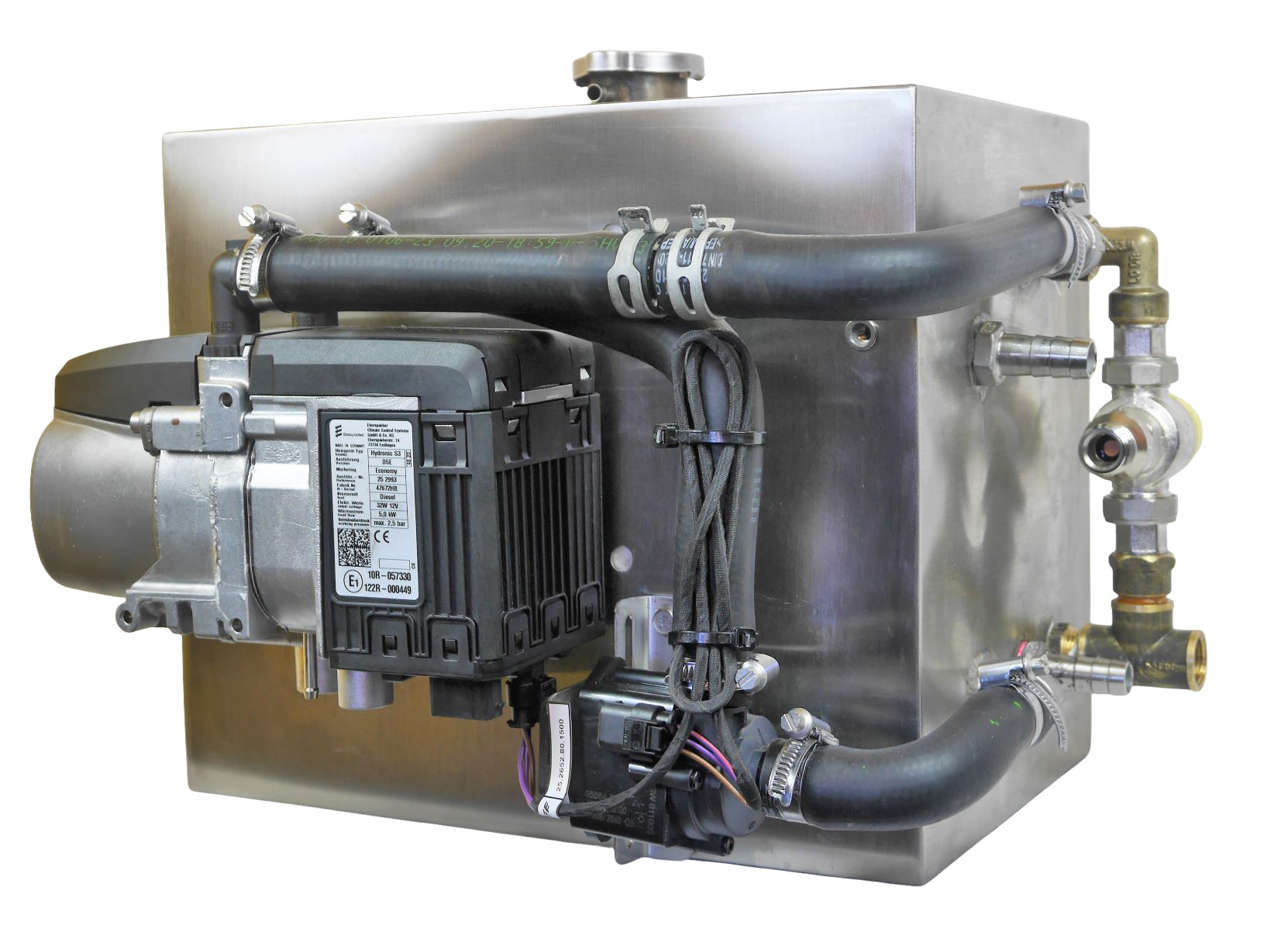 Advantages over Gas
Allows single fuel diesel or diesel electric installations.
Very safe, certified installers are not required.
Fast heat up times, from 7min to first hot water is quicker than gas storage.
Can provide hot water at very low flow rates like a dribble to rinse dishes, something an instant gas system cannot do.
First drop of water out of the system is hot, no long cold flow whilst the instant gas gets started.
Ideal for marine use where gas hot water is not suitable.
The DH Series comes in 3 sizes to suit all applications.
Comparison of Systems
System
DH9 Hydronic
DH15 Hydronic
DH30 Hydronic
Super compact, modular kit or pre-assembled, super fast heat up hydronic hot water
Compact, pre-assembled fast heat up hydronic hot water
Larger pre-assembled system where more hot water is needed.
slide on campers, camper trailers, small motorhomes eg transporter, sprinter
caravans, off road trucks, larger motorhomes, small boats
large motorhomes, busses, off grid houses.
Belief 5kW
Eberspacher D5E
Belief 5kW
Eberspacher D5E
Hydronic air heating compatible (optional)
modular kit or pre-assembled
Time to first useable hot water (from cold start)*
Approx. regeneration time (ie time to reheat between showers)*
Length of time flow rates can be supported at temp rise of 30 deg.*
2L/min >15min
3L/min 9min
4L/min 3.5min
5L/min 2.5min
2L/min >15min
3L/min 13min
4L/min 6min
5L/min 3min
2L/min >15min
3L/min >15min
4L/min 12min
5L/min 7min
6L/min 5min
Long Term 'Indefinite' flow rate.*
2L/min @ rise of 30 degrees.
2L/min @ rise of 30 degrees.
2L/min @ rise of 30 degrees.
Recommended shower head flow rate
2.5L/min – 3.5L/min
Bricor Ultra Max
2.5L/min – 4.5L/min
Bricor Ultra Max
Bricor Elite
Up to 5L/min
Bricor Elite
300W x 280H x 280D
(assembled unit)
316 Stainless steel inner and outer
*All values based on average ambient temperatures, actual results will vary depending on specific conditions.
Furnace Information
Quietest option available due to better output modulation and quieter design.
Reliability / Service intervals*
Best in class
3000h+ service interval
Combined hot water and air heating where air heating is needed overnight. Where a longer duty cycle is needed. Extended touring, live on board.
*Service intervals are based on manufactures literature or our experience, they vary significantly due to fuel quality, dust ingress, how furnaces are used etc.
By adding in an Air Heating Head, the DH Series diesel hot water becomes an effective air heater, giving off up to 5kW of air heating from a range of Kalori or our own super quiet ducted fan heads. Having the fan heater remote from the hot water system allows flexibility in mounting position and heat output allowing the sytem to be tailored for a wide variety of applications in RVs and boats.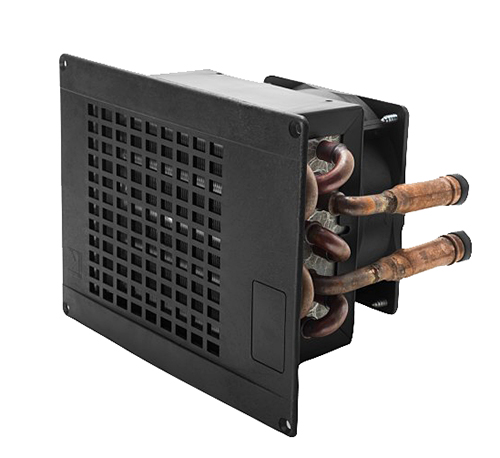 Pulling the hot water and air heating system together to act as one unit is the Dieselheat Hydronic Thermostat. This thermostat will control the fan speed in our own ducted fan unit or the Kalori fan units, switch the hot water unit on and off and also activate coolant control valves to shut down the heaters when not in use.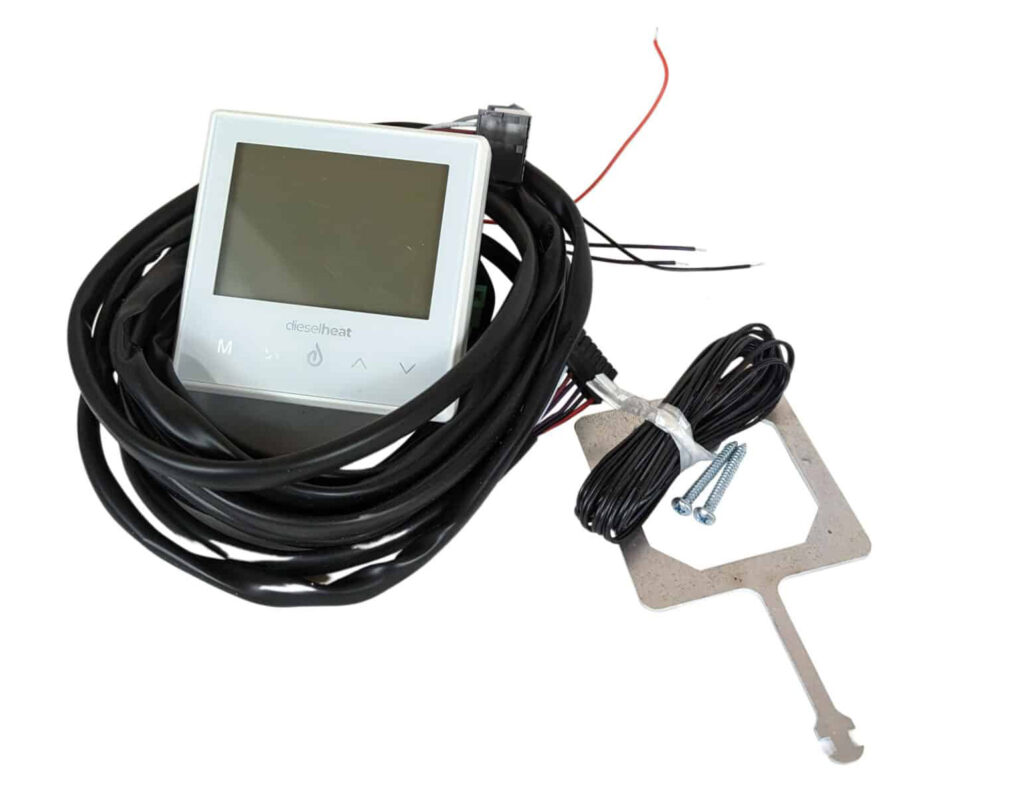 Pair the DH9 or DH15 with our Specialised Shower Accessories to have super water-wise showers as low as 2L/min and digital temperature control. Great for a caravan or boat where water is limited.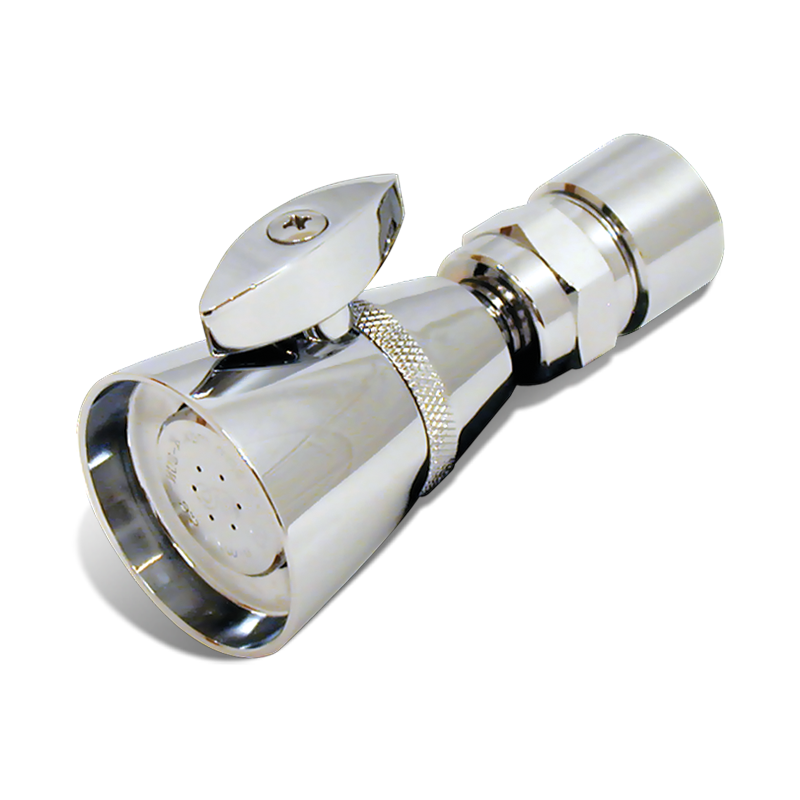 Backed by a two year warranty and with Dieselheat's focus on great service, you will enjoy piping hot water, warmth and a good night's sleep knowing that if you need help we have got your back.